← Back
Fall 2018 All Access T5 $299.00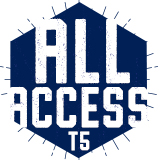 The ALL ACCESS T5 meal plan provides a total of $299 pre-paid Dining Dollars. Save every day when you spend them. You always get a 10% discount off regular price at Panther Dining locations on the MMC and BBC campuses. That includes everything from The Fresh Food Company to Chili's and Panda Express to Starbucks.
Remember:
• 10% discount on purchases at Panther Dining locations, including The Fresh Food Company.
PROMO ALL ACCESS T5 = $299 for the fall semester only
Promotional Meal Plans are a one semester commitment.
Note: You can pay for your meal plan in one of two ways: 1) online with credit or debit card. 2) in the office in Graham Center (GC) 1215 with cash, check/money order, credit or debit card,